Main Features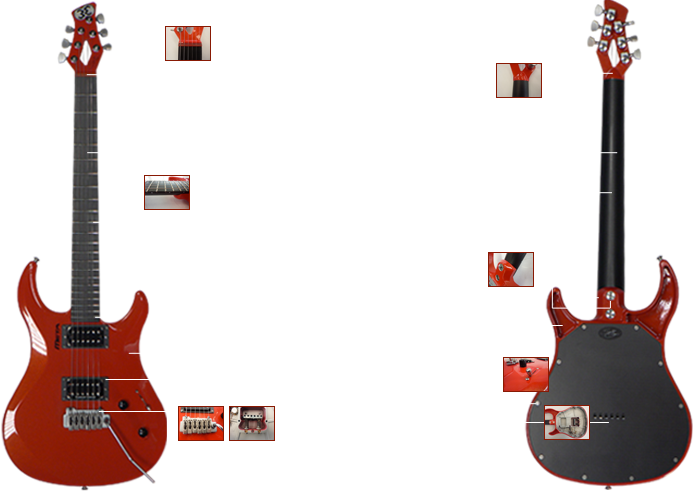 From the creative Italian genius, innovation and technology, an out of the ordinary guitar borns, crafted with extremely modern materials like carbon fiber and aluminum alloy. These raw material, which are unusual in the field of musical instruments, together with unique construction techniques, gives ThreeGuitars an exceptional quality.
The instruments have a classical line, neat and modern design and an excellent refinishing of the smallest details.
The system for the assembling of the neck and the body, which is protected with an international patent, guarantees any type of deformation of the instruments and absolute stability hence the guitars are not vulnerable to any kind of climatic or temperature variations. The improvements of the neck, the insertion of the frets and the final mounting are made with extreme mastery and passion within the company.
Beside all the classical sounds of other famous guitar brands, these guitars have also its own original sounds which have been very much appreciated by the greatest Italian and international guitarists fascinated by the powerful voice, great sustain, more dynamics and exceptional handling of ThreeGuitars along with the reliability and performance up to now totally unknown.


MAIN FEATURES:
Many years of research applied to aerospace materials and processing techniques, joined to experience in recording studios and in international live tours, have led to the development of products with exceptional quality. The innovations introduced worldwide have prompted an international patent. This patent includes:
IBB: Internal Body Beam
Design with integrated acoustic chambers
DSS: "D" Shape Stability
Of body/neck joint and neck/headstock joint
HRN: Hollow Resonant Neck
Carbon fiber neck
TTS: ThreeGuitars Tremolo System
All of these characteristics are peculiar of ThreeGuitars, unique in the world, and gives forever to our guitars indeformability and constant performances ThreeGuitars body is cut by CNC of a solid aluminum plate than weight approx 14kg. before machining!! The acoustic chambers realized are closed by a CARBON FIBRE bottom cover. The neck to headstock joint is realized by a coupling glued by special adhesive, the same employed in aeronautics and F1 race cars.
With the same method, we have fixed an aluminum insert at the opposite end of the neck. In that insert are machined the threads for the screws than fixing neck to body.
The "D" shape of the neck to body joint allows an unmovable coupling in all direction, guarantees high rigidity and maximum sound transmission from strings to guitar. The design of the instruments was developed for the maximum player performances, with a comfortable neck shape, a full access to the last fret and a perfect mass balance. On tremolo models, ThreeGuitars Designers has employed a compression springs system (TTS). This improvement combined with the low friction nut and Sperzel® auto-locking machine heads allows you the best performance up to now.
Reasons to choose ThreeGuitars?
Aluminium body
Carbon fiber neck
Accurate CNC machined
Hand made building
Totally reliable
Non-deformable
Maintenance free
Great dynamics
High noiseless output
Big and warm sound